India Tuesday rejected as "absurd and motivated" an accusation by Canada that it was involved in the killing of a pro-Khalistan leader in Canada. Canada's Prime Minister Justin Trudeau had alleged that Canadian security agencies have been actively pursuing "credible allegations" of a "potential link" between the Indian government and the killing of Hardeep Singh Nijjar and expelled an Indian diplomat.
Nijjar, head of the Guru Nanak Sikh Gurdwara Sahib in Surrey, Canada, was killed in June this year. He was the chief of the separatist organisation Khalistan Tiger Force (KTF). Nijjar, who was 46, was shot dead by two unidentified men on the premises of the gurdwara.
The Ministry of External Affairs (MEA) said in a statement, "We have seen and reject the statement of the Canadian Prime Minister in their Parliament, as also the statement by their Foreign Minister."
"Allegations of Government of India's involvement in any act of violence in Canada are absurd and motivated. Similar allegations were made by the Canadian Prime Minister to our Prime Minister, and were completely rejected," the MEA statement said.
Countering Trudeau's remarks that Canada is a "rule-of-law country", the MEA said, "We are a democratic polity with a strong commitment to rule of law."
India rejects allegations by Canada:https://t.co/KDzCczWNN2 pic.twitter.com/VSDxbefWLw

— Arindam Bagchi (@MEAIndia) September 19, 2023
"Such unsubstantiated allegations seek to shift the focus from Khalistani terrorists and extremists, who have been provided shelter in Canada and continue to threaten India's sovereignty and territorial integrity. The inaction of the Canadian Government on this matter has been a long-standing and continuing concern."
It also hit out at Trudeau and other political leaders, saying, "That Canadian political figures have openly expressed sympathy for such elements remains a matter of deep concern."
"The space given in Canada to a range of illegal activities including murders, human trafficking and organised crime is not new. We reject any attempts to connect Government of India to such developments," it said.
It "urged" the Government of Canada to take "prompt and effective legal action against all anti-India elements operating from their soil".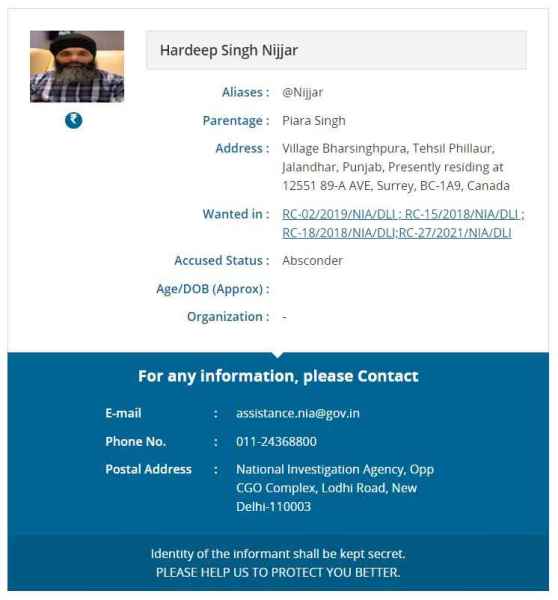 A screenshot from NIA website showing Nijjar in the agency's most wanted list.
Earlier in the day, Trudeau informed the Canadian parliament that he had raised the issue with Indian Prime Minister Narendra Modi at the recent G20 summit.
"Any involvement of a foreign government in the killing of a Canadian citizen on Canadian soil is an unacceptable violation of our sovereignty. It is contrary to the fundamental rules by which free, open and democratic societies conduct themselves," Trudeau said on Monday in the House of Commons.
Trudeau said Canada has expressed its concerns about Nijjar's death to high-level security and intelligence agencies in India. He said he had also raised it with US President Joe Biden and UK Prime Minister Rishi Sunak.
"I continue to ask with a great deal of firmness that the government of India cooperate with Canada to shed light on this situation," the Canadian PM said.