South Korea's Hanwha Defense, after recently clinching a multi-billion dollar contract to supply Australia with 129 AS21 Redback Infantry Fighting Vehicles (IFVs), has disclosed to EurAsian Times that several European and Middle Eastern countries have expressed their interest in the 'REDBACK.'
The company is one of South Korea's major defense contractors with expertise in artillery systems and armored vehicles. In recent years, it has experienced notable success in exporting weapon systems to various countries. 
In an email interview with EurAsian Times, SungKi Jung (Jeff), the Director of Strategic Communications at Hanwha Defense, offered insights into the company's successful journey in securing the contract in Australia and highlighted the key milestones.
In August 2018, Australia initiated an open tender search for an Infantry Fighting Vehicle (IFV) designed for close combat operations against anticipated future threats as a part of the LAND 400 Phase 3 project. 
Jung said, "Hanwha Defense Australia, along with support from its Australian and international partners, took the view that the Land 400 Phase 3 competition was an excellent opportunity to strengthen ties between Australia and South Korea." 
"Significantly evolving the K21 to meet the specific requirements of the Australian Army, a prototype vehicle was developed in less than six months," he noted. 
Jung explained, "Upon being shortlisted as one of two tenderers for the rigorous testing program known as the Risk Mitigation Activity (RMA), HDA provided three vehicles for over a year (during the peak of COVID, which added pressure to international supply chains), for testing in Australia and internationally. This included all types of terrain, reliability, lethality, maneuverability, and blast tests."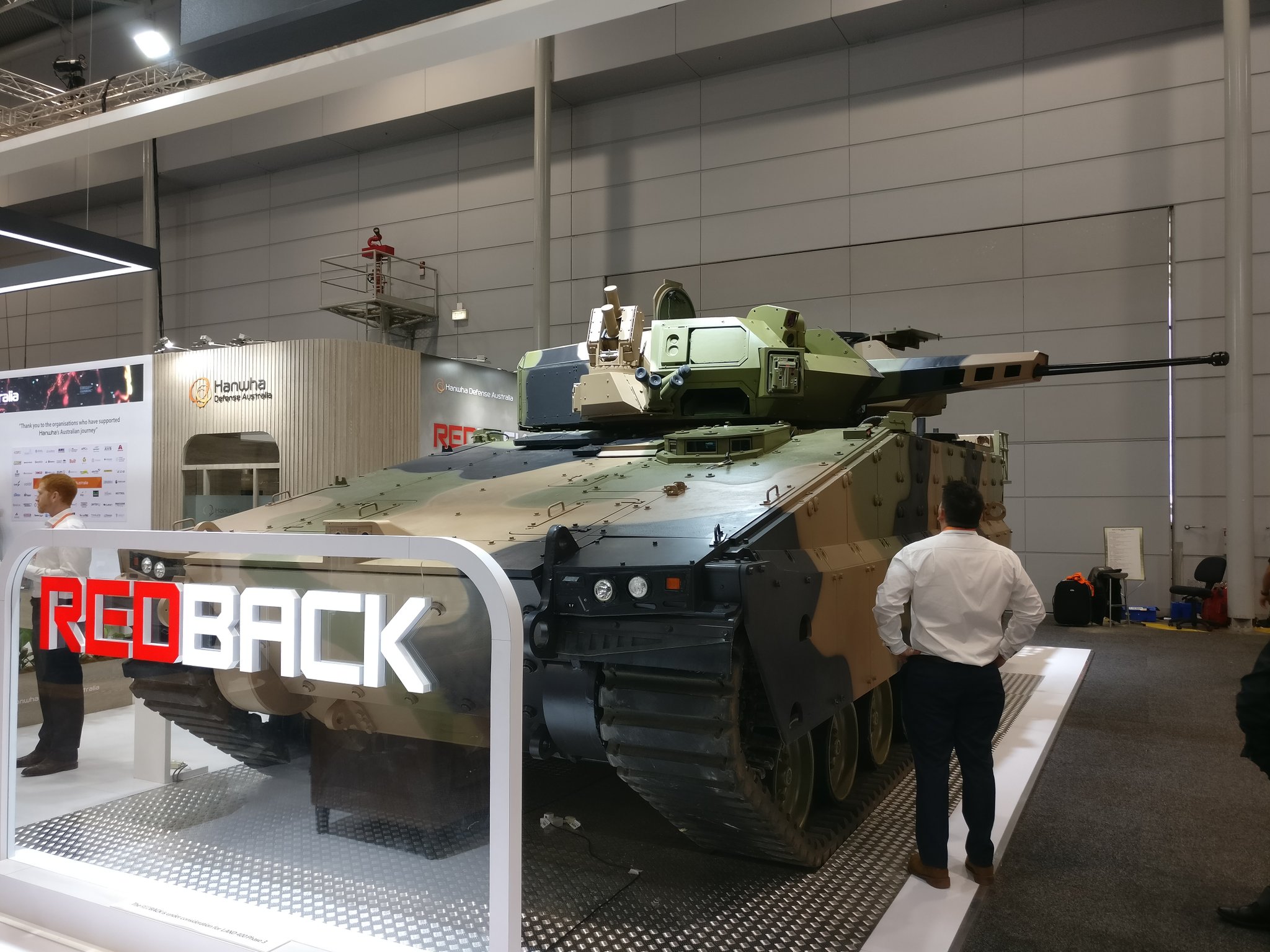 He further highlighted that by amalgamating "best-of-breed solutions" from global sources and the crucial support of local Australian companies contributing up to 60% of the vehicle's components, the Redback solidified its position as the preferred choice for the Australian Army and the Government. 
South Korea secured the Australian contract by outperforming Germany's KF-41 Lynx Infantry Fighting Vehicle (IFV).
The deal, as previously stated by Australian Defence Industry Minister Pat Conroy, is one of the most significant projects in the history of the Australian Army and is valued at approximately A$5 billion to A$7 billion. 
Future Prospects Of The Redback Infantry Fighting Vehicle (IFV)
The AS21 Redback tracked infantry fighting vehicle utilizes the K21 IFV chassis, a platform currently used by the South Korean Army.
This vehicle also signifies a noteworthy achievement for South Korea, representing the country's first-ever defense product explicitly designed for the international market. 
This sets the AS21 Redback apart from other Korean military exports, like the K9, K2 Black Panther main battle tank, T-50 trainer jet, and FA-50 light attack jet, which are already in active use within the Korean military. 
Shashank S. Patel, a geopolitical and defense analyst, also told EurAsian Times, "The success of Hanwha Defense in the IFV category is a benchmark for the South Korean defense manufacturers."
Patel believes the multi-billion dollar deal with Australia will catalyze the Korean government to further enhance this AS21 Redback variant, aiming to capture a specific market niche given the limited competition in this category.
This South Korean Infantry Fighting Vehicle (IFV) will be produced in Australia. The first Redback vehicle will be delivered to Australia in early 2027, two years ahead of the original schedule. The final vehicle is anticipated to be delivered by late 2028.
HDA (Hanwha Defense Australia) has planned to undertake the manufacturing and assembly of the Redback infantry fighting vehicles at its Hanwha Armoured Vehicle Centre of Excellence (H-ACE) located in Geelong, Victoria. The facility is set to start operations in 2024.
In response to inquiries about Hanwha's plans for the Redback armored vehicle, the company informed EurAsian Times, stating, "There are several upcoming European programs that Redback would be suitable for. The Redback Centre of Excellence at HDA's Hanwha Armoured Vehicle Centre of Excellence (H-ACE) in Geelong, Victoria, in the south of Australia, ensures the vehicle will have a strong foundation to build on." 
The company added, "Several European and Middle Eastern nations have shown interest in the REDBACK." 
While the South Korean company chose not to specify the name of any particular country in this regard, Patel suggests that Poland, Morocco, and Saudi Arabia are potential future customers for the Redback Infantry Fighting Vehicle (IFV). 
In addition to these nations, Romania, which is finalizing a contract to procure more than 200 armored vehicles by 2031, might also become a potential customer for this state-of-the-art Infantry Fighting Vehicle (IFV). 
Meanwhile, Patel highlighted that there are indications that Hanwha Defense intends to conduct trials of this IFV for the South Korean Army shortly. 
Previously, Major General Cho Hyun-ki, the Deputy Minister of South Korea's Defense Acquisition Program Administration, also suggested that the Republic of Korea (ROK) might consider deploying "the Australian-manufactured Redback vehicle on its soil."
Patel said, "South Korea aims exclusively to develop state-of-the-art defense equipment, weapons, and vehicles under fast-track R&D programs targeted towards defense utilization of any country."
He emphasized that the recent deal with Australia complements President Yoon Suk-yeol's dedication to positioning South Korea as a leading global weapons supplier by 2027. 
Patel concluded that South Korean military facilities are transforming manufacturing capabilities into large-scale producers with state-of-the-art technical expertise tailored to meet user-specific requirements.
Source link