A semi-submersible ship, Yinmahu, operated by the Chinese People's Liberation Army – Navy (PLA-N), has completed its first-ever nighttime training mission, underscoring its ability to engage in combat operations round-the-clock. 
India's LCA Tejas, ALH Dhruv & LCH Prachand Draws Nigeria's Interest; HAL Provides 1st Demonstration
Yinmahu is the newest semi-submersible ship in the PLA Navy's fleet. Its expansive deck spans over 100 meters in length and boasts a width of more than 30 meters, all while having the ability to submerge to depths exceeding six meters beneath the waterline while the remaining sections of the vessel stay above the surface. 
The state-run Global Times reported that the Yinmahu, a part of the PLA Navy's support ship detachment, recently embarked on an extensive journey covering nearly 1,000 nautical miles to an unfamiliar maritime area. 
During this mission, it conducted consecutive vessel loading and transport training sessions, marking a significant milestone as it successfully performed nighttime submerge-load-float training for the first time.
While undergoing training, Yinmahu also achieved a significant milestone for the PLA Navy by loading three smaller boats onto a semi-submersible ship at sea despite challenging conditions of strong winds, high waves, and limited visibility. 
According to the Chinese media, this accomplishment represents a notable advancement in the PLA Navy's semi-submersible ship operations.
Semi-submersible vessels like Yinmahu are pivotal as substantial maritime transport platforms capable of ferrying entire weapon systems. 
This vessel serves multiple purposes, including transporting small vessels lacking the necessary range for far-sea operations and oversized equipment that cannot be transported by alternative means.
During a single journey, it can transport thousands of tons of equipment and supplies while also being capable of executing sea rescue missions to assist damaged vessels.
A Chinese expert suggests that the semi-submersible ship's nighttime training reflects its achievement of round-the-clock combat readiness, emphasizing the pivotal role of nighttime operations in military operations for securing tactical and potentially even strategic advantages.
Yinmahu Semi-Submersible Transport Ship
Observers first noted the presence of the Yinmahu semi-submersible transport ship, which is only the second of its kind, in service with the People's Liberation Army – Navy in early 2022. 
Before this, the Chinese navy's first heavy-lift vessel, the Donghaidao (hull number 868), had been confirmed to have commenced operations back in 2015.
The official classification of this ship type within the PLA-N remains undisclosed. However, the US Navy's Office of Naval Intelligence refers to it as the "Modified Hansa Sonderberg class" due to its design being adapted from a civilian ship class bearing a resemblance in design. 
One of the notable applications of a semi-submersible ship is its ability to transport Zubr-class large air-cushioned landing craft. This vessel is designed to accommodate air-cushioned landing craft or potentially other amphibious vehicles, allowing them to launch or dock from its sides. 
This capability is precious for conducting amphibious and landing operations where conventional port facilities are unavailable.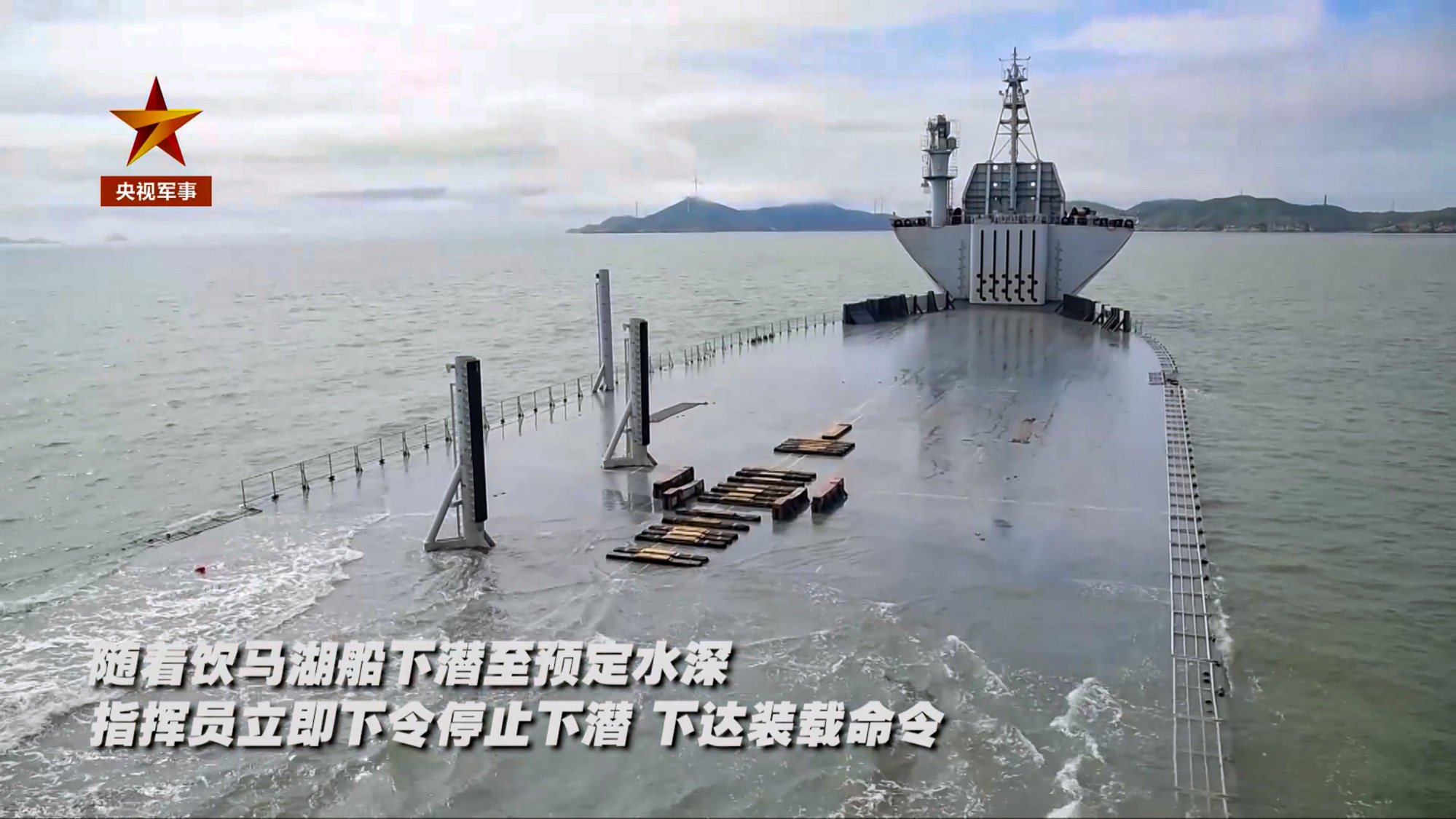 The semi-submersible heavy-lift ships of the PLA Navy hold significant potential in wartime scenarios, serving crucial roles such as transporting equipment and ships, conducting rescue operations for damaged vessels, and even functioning as an improvised dock for emergency on-site repairs.
For instance, in 2017, following separate collisions that inflicted significant damage on two 7,000-ton Arleigh Burke-class guided-missile destroyers, namely the USS McCain and USS Fitzgerald, the US Navy enlisted the services of two Dutch-operated heavy lift vessels, specifically the Treasure and the Transshelf. 
These heavy lifters were tasked with transporting and returning each of these damaged warships to their destination. 
Over the past two decades, China has made significant strides in establishing a semi-submersible heavy-lift fleet. This fleet comprises several vessels with impressive loading capacities ranging from 30,000 to 60,000 tons.
In 2016, COSCO Shipping, a Chinese company, launched the world's second-largest heavy lift vessel, known as the Xinguanghua, capable of carrying a remarkable 100,000 tons of cargo.
This load capacity placed it just behind the Netherlands' Vanguard, holding the heaviest lift ship title at 110,000 tons. The Xinguanghua's deck could submerge to 31 meters (101 feet). 
In the event of a contingency, these vessels could probably be placed under the command of the People's Liberation Army Navy (PLAN) for military operations. 


Source link
#Chinese #Navy #Achieves #Key #Landmark #Conducts #1st #NightTime #Ops #SemiSubmersible #Vessel