In a first-of-its-kind flight that can redefine naval sea-borne aviation, a cargo drone flew from Cornwall and landed on the Royal Navy aircraft carrier HMS Prince of Wales on September 4.
The W Autonomous Systems (WAS)-produced Unmanned Aerial Vehicle (UAV) fully autonomously delivered supplies, took off again, and returned to the airfield in the twenty-minute flight.
This appears to be a light tactical unmanned logistics role between ships of a single fleet that significantly unburdens other bigger fixed and rotary wing aircraft.
Unmanned systems have made a foray into all air, land, and sea military operations. So far, the unmanned systems fit perfectly into only the core combat role, particularly aerial vehicles, by operating as armed or kamikaze drones.
The evolution to unmanned combat on the ground and the sea is finding its footing now, with the introduction of Russia's Marker Unmanned Ground Vehicle (UGV), which is being tested, and Ukraine's uncrewed surface high-speed suicide boats.
Battlefield logistics, including tactical transport of material, ammunition, search and rescue, or medical evacuation (MEDEVAC), are still nascent, with only concept systems being validated for their basic operations.
As the Royal Navy moves toward implementing its Indo-Pacific vision as a part of a US-led alliance against China, its effort with unmanned systems seems to be aimed at this region.
The Flight Between Land To HMS Prince Of Wales
Following preparations and authorization from the Civil Aviation Authority, the drone, with a twin-boom rotor configuration and a large midsection to carry a payload, took off from Predannack, the satellite airfield of Royal Naval Air Station (RNAS) Culdrose.
It touched down safely on the moving carrier, carrying "a dummy payload" of naval memorabilia that was removed by the crew, according to a report on Navy Outlook.
It returned carrying an "aviation fuel sample was loaded (meant) to be tested using facilities ashore," the report added.
A video of the flight recorded by a camera attached to the UAV's left wingtip showed a crew member at the land base opening and securing the payload inside the cargo hold.
The UAV took off and landed on the HMS Prince of Wales flight deck following the 20-minute flight when the carrier crew pushed and brought the aircraft to the apron. They loaded the testing fuel sample into the hold, and the UAV took off again.
Capable UAV
The aircraft is made of aluminum alloy and developed by W Autonomous Systems (WAS) based in Southampton. With a 10-meter wingspan, it can carry a payload of 100 kilograms to a distance of up to 1,000 kilometers.
Possibly the most defining feature was that the aircraft was fully autonomous, meaning it had an advanced flight control and navigation system where the coordinates were fed into the computer.
While autonomous piloting technology is only evolving and is still incapable of complex aerial maneuvers required in military aviation, it has been demonstrated to fly between preset coordinates, which is the elementary requirement of tactical logistics supply runs.
Manned aircraft or ground vehicles do the same thing between the frontlines and rear areas, holding ammunition, reserve troops, and battlefield hospitals.
"Designed with a 'zero single point of failure' philosophy, this eliminates most risk, including in the avionics, communications, and ground control systems. As a Short Take-Off Landing (STOL) platform, it can operate from rough airstrips and needs about 150 meters to get airborne, less than half the length of the carrier's flight deck," the report added.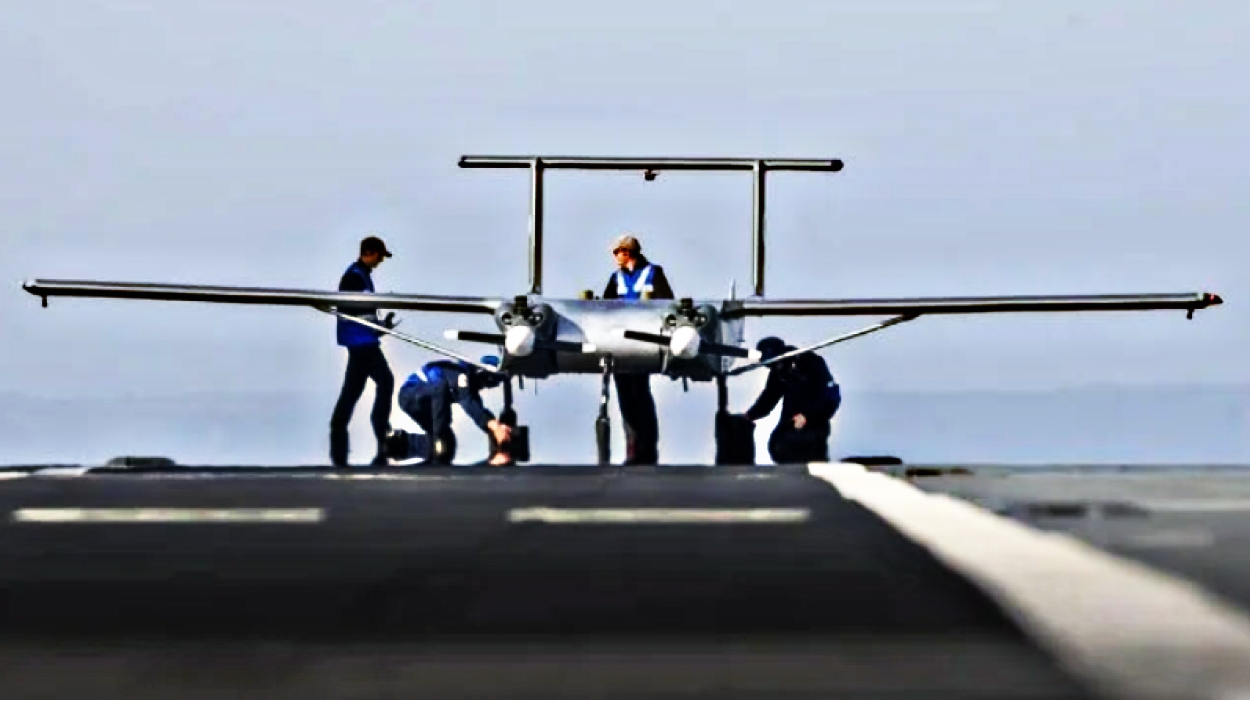 Minor Addition, Big Relief
Small quadcopters and Banshee/Vampire UAVs have previously been tested on board HMS Prince of Wales, but this was the first time a UAS landed and took off from the ship. The former are expendable target drones that test air defense missile guns and train gunner and radar crews.
Even their launching systems are different, where they are released by either mobile catapults or rocket boosters and are recovered by internal parachutes. If they operate on water, they descend into the sea and are retrieved separately.
The Royal Navy intends to utilize heavy-lift UAVs to transfer stores and supplies, such as mail or spare parts, from ashore. It offers a "low-cost, lightweight military intra-theater lift (MITL) capability, reducing flying hours for expensive and high-value helicopters."
Although relatively low-key and not a direct increase in combat power, this logistic support is vital to naval operations. Releasing precious helicopters for other work can act as a force multiplier.
Concept Proven & Effective, Precursor To More UAVs To Be Tested
Likewise, helicopters making supply runs between shore facilities and ships will have more space by not having to carry smaller items that can otherwise be loaded on other aircraft, in this case, the UAV.
However, more such tests are needed, significantly further fine-tuning the autonomous flight control software to fly between ships in rough weather conditions and under electronic warfare combat conditions.
The latest flight can be considered a precursor to seeing various fixed and rotary-wing UAV types tested on aircraft carriers over the next few years.
"The trials off Cornwall were the first stage of an autumn program for the carrier using the crawl, walk, run approach. Building up from this relatively simple evolution, the ship is now on her way across the Atlantic to the east coast of the US, where she will conduct more demanding flying trials with F-35, Mojave RPAS, and V-22 Osprey," the report added.


Source link
#Choppers #Chopped #Drones #Job #Tests #UAV #Deliver #Cargo #Aircraft #Carrier