OPED By Vaishali Basu Sharma
Prime Minister Narendra Modi's visit to Greece, where he met with Prime Minister Kyriakos Mitsotakis, has been described as 'historic' as he was the first Indian Prime Minister to visit Athens in 40 years. India and Greece have agreed to elevate bilateral ties to a "strategic partnership."
The joint statement released after the Mitsotakis-Modi meeting reads: "Building on the foundation of the long-standing warm and close relationship between their countries and peoples, the two leaders decided to upgrade Greek-Indian bilateral ties to the level of a "strategic partnership" and agreed to work to expand further bilateral cooperation in political, security and economic spheres."
But PM Modi's visit also had an important commercial agenda.
Athens aims to establish itself as the 'Gateway to the European Union' for India, connecting India to Europe, Asia, and Africa. India is keenly interested in this development as it aims to explore using its Piraeus, Greece's largest port, instead of the Chabahar port to send its shipments to Europe faster.
In this context, PM Modi discussed alternative export routes, keeping in mind Piraeus. Since the normalization of UAE's relationship with Israel and the formation of the I2U2 (India-Israel-US-UAE) economic grouping, there has been tremendous excitement about the viability of a route to the Mediterranean countries either through ports at the UAE or the Adani-owned Haifa port in Israel from where they can go to the Piraeus trans-shipment complex.
"The visit of Indian Prime Minister Narendra Modi to Greece, the first in 40 years, went down in history. On a business level, if there was a group that stole the show, it is that of Gautam Adani, the Indian who was until the end of 2022 in the position of the second richest person on the planet according to the Forbes list and the richest Asian," said a report in the Business Daily.gr.
According to the Free Press Journal report, defense was a primary focus of the India-Greece partnership. The Indian Air Force participated in a European military exercise held in Greece this year, while India and Greece conducted a joint naval exercise in Crete.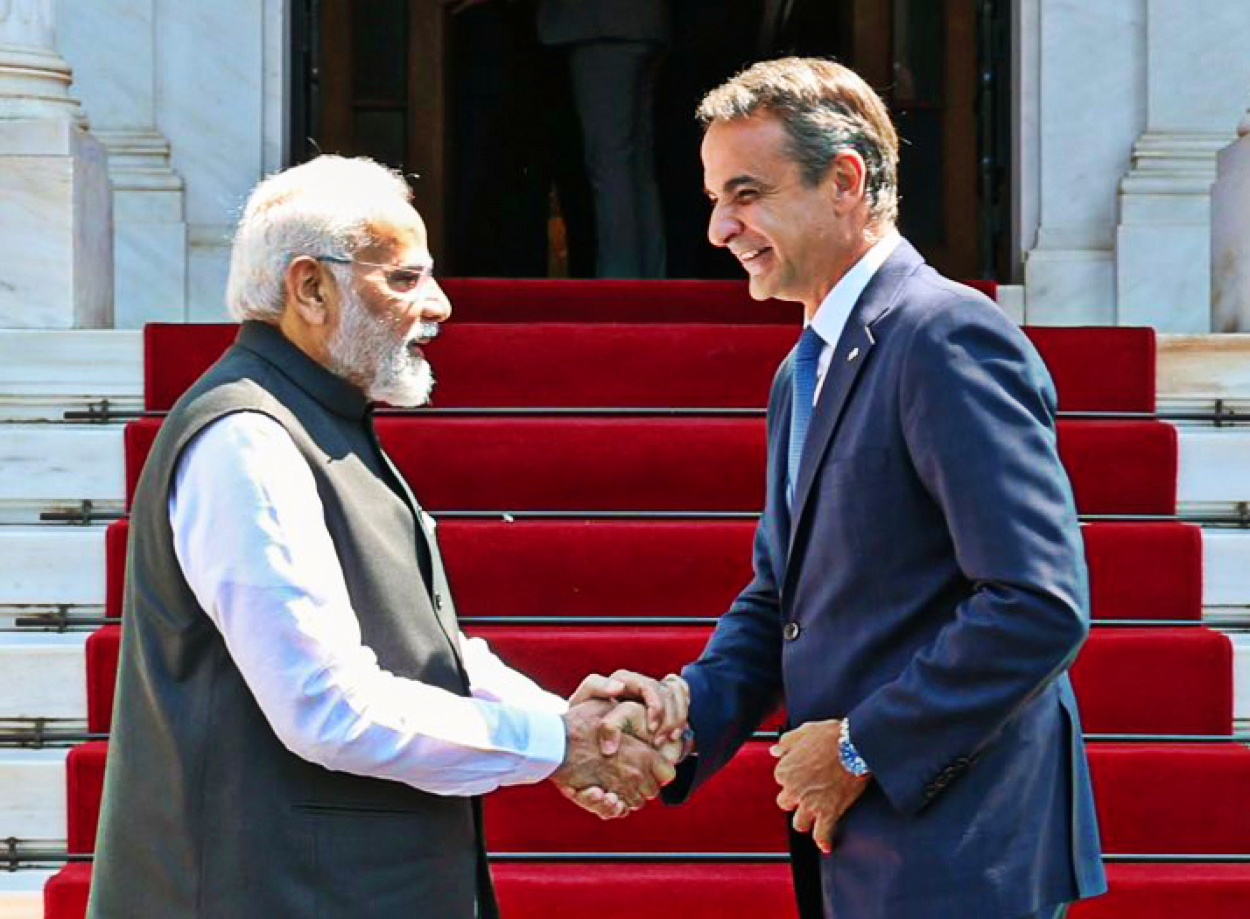 In addition, Greek fighter jets are expected to participate in the Indian Air Force exercise for the first time in September. However, commercial interests have also become a significant aspect of the bilateral.
Prime Minister Modi also announced plans to double India and Greece's bilateral trade, which stood at nearly $2 billion in 2022-23 by 2030.
The media report stated that "the head of the Adani Group is interested in investing in Greek ports. According to the Greek City Times, Adani Group may be interested in developing Kavala in northern Greece, Volos, 330 kilometers from Athens and  Alexandroupoli, to turn it into a gateway for Indian exports to Europe. Kavala serves as the central port in the eastern Macedonia region, catering to parts of the Balkans.
Prime Minister Modi, who maintains close friendly relations with Adani and other Indian businessmen, reiterated that Greece could be India's Gateway to Europe. The acquisition of a port in the Aegean helps significantly in this direction.
Exploring profitable economic alliances through the I2U2 allows New Delhi the opportunity to use its strategic ties to Israel and the United Arab Emirates without jeopardizing its domestic obligations and also emphasizes private capital investment.
If India's Adani Group invests in these ports, Greece could solidify its position as India's central transit hub to Europe. There is, however, a blip.
Greece's strategically located Port of Piraeus, located 12 kilometers southwest of Greece's capital, Athens, one of the closest Mediterranean ports on the European continent to the Suez Canal-Gibraltar main shipping routes, is Chinese-controlled and China's COSCO Shipping is the majority owner of the Piraeus Port with a 67-per-cent shareholding.
Piraeus has an express train to Central and Eastern Europe as part of the China-Europe Land-Sea Express Line, also developed by COSCO.
China has invested billions of dollars in infrastructure, telecommunications, technology, and energy projects in Greece, the first EU member to join the Belt and Road Initiative (BRI) in 2018. China has become Greece's sixth-largest source of foreign investment.
The Belt and Road Initiative (BRI) expansion in Greece indicated how China is also translating its economic power into actual political influence over small European states to the disadvantage of the broader EU and American hegemony.
Despite the economic relationship with China, Washington has been keen that Greece continues to retain strategic ties with its traditional allies while exploring other bilateral alignments. Some speculation has been that the US is interested in orienting the I2U2  as a China-focused entity, like the Quad in the Indo-Pacific.
Interestingly, the week before PM Modi's visit to Athens, US-based Florida-headquartered private equity investment firm GQG Partners purchased 2.2 million shares of Adani Ports, raising its stake in the company to 5.03 percent from an existing 4.93 percent stake in Adani Ports And Special Economic Zone Ltd. The development came days after Deloitte resigned as the company's auditor.
If India proceeds in its investment and strategic partnership with Greece, it must avoid falling into the trap of becoming a force multiplier in Washington's strategy of multi-theater containment of China. In developing strong bilateral ties, its objectives must remain independent from Washington.
Vaishali Basu Sharma is an analyst of strategic and economic affairs. She has worked as a consultant with India's National Security Council Secretariat (NSCS) for nearly a decade. She is presently associated with the New Delhi-based think tank Policy Perspectives Foundation.
The author can be reached at postvaishali (at) gmail (dot) com.


Source link
#Athens #Balance #Indian #Chinese #Infra #Projects