With Eurofighter Typhoon and Dassault Rafale locked in a competition to win the contract to supply fighter jets for Bangladesh Air Force (BAF), French President Emmanuel Macron quickly dashed to Dhaka. The visit from a French President to Bangladesh has come after 33 years.
Bangladesh plans to modernize its armed forces under the Forces Goals 2030. Under the plan, the BAF already inducted 16 Chengdu J-7 fighter jets from China. Apart from this, Bangladesh floated a tender for eight Multi-Role Combat Aircraft (MRCA) in the financial year 2017-2018. The tender can order four more aircraft in the second tranche.
The BAF was actively scouring the contenders when COVID-19 threw a spanner in its modernization plans. India has also put its indigenous Light Combat Aircraft (LCA) in the fray and is trying to leverage its geographical contiguity. Bangladesh, however, is leaning towards a European fighter jet. 
"Bangladesh will likely opt for a European aircraft – Eurofighter Typhoon or French Rafale. But nothing is final before the next elections," the Bangladeshi official told the EurAsian Times. "With Rafale being operated by the Indian Air Force, the odds of a Eurofighter Typhoon have increased," the official added.
India has inducted 36 Rafales in its air force and is purchasing 26 Rafale M for its navy for aircraft-based operations. The induction into the IAF has changed the fortune of Rafale, manufactured by the French airspace major Dassault.
The hope that the fighter jet deal for BAF will not be finalized until next year could have been one of the factors in bringing the French President's visit to Bangladesh to fruition at the 11th hour. President Macron was in India attending the G-20 summit when it was decided that he would be in Dhaka for the historic two-day visit to further the bilateral ties between the two countries.
France-Bangladesh relations have witnessed a significant boost over the last several years, and the bilateral trade between the two countries is worth over three billion Euros. Bangladesh's first-ever satellite, Bangabandhu-1, was made by the French company Thales.
Dassault Rafale Vs. Eurofighter Typhoon Dogfight
Rafale and Eurofighter are two contemporaries of military aviation, which have been locked in fierce competition several times. Both medium-weight aircraft have European origins.
Five European countries initially came together to build a European fighter jet. There would have been no Rafale had France not parted ways from the consortium because of disagreements over the features and capabilities of the fighter jet.
The UK, Germany, Spain, and Italy wanted an air superiority fighter, drawing their lessons from the Cold War. France, on the other hand, wanted a lightweight fighter jet with more navy-capable weapons.
Professor Justin Bronk, Senior Research Fellow for Airpower and Military Technology at Royal United Services Institute, while enunciating the difference between the two fighter jets, said: "With common DNA in terms of initial development and requirements setting work before France split away from what became the Eurofighter consortium to develop the Rafale, it is unsurprising that both aircraft have relatively similar design philosophies compared to their competitors globally."
"The biggest source of differences comes from the French requirement that the basic airframe design be suitable for CATOBAR carrier operations, which carries particular requirements in relatively high-alpha, low-speed handling, especially with external stores still attached," Prof. Bronk adds.
Dassault's Rafale is a twin-engine fighter jet capable of carrying out long- and short-range missions. True to its categorization of 'omni-role,' the aircraft can be deployed for surveillance, air-to-ground strikes, and air-to-air dogfights and can even carry tactical nuclear weapons. The aircraft operates in the French Navy and French Air Force.
The aircraft is also battle-proven, having participated in Afghanistan, Mali, Libya, Syria, and Iraq.
The French Air and Space Force (FASF) operates the F3-R standard version of Rafale. It was developed and launched at the end of 2013 and was inducted into the FASF in 2018. This fighter jet version is an upgraded version of the Rafale F3 standard. The F3-R version carries the Meteor long-range-air-to-air missile produced by MBDA.
It is equipped with the Thales Talios new-generation laser designator pod that gives it high precision in air-to-ground strikes. It also has a laser-homing version of the Safran Air-to-Ground Modular Weapon, from which comes its capability to destroy targets at ranges of several tens of kilometers with metric precision. It is also adapted to strike mobile targets. The sensors in this version have also been upgraded to ensure interoperability.
When it comes to weapons, the Indian Rafale is a beast. The Indian Rafale has 14 hard points, allowing it to carry a payload of over nine tons. The Indian-specific enhancements include Air-Air Surface Missiles Hammer, SCALP 'Storm Shadow' long-range air-ground cruise missile, and Meteor air-air missiles with more range and accuracy. Meteor gives Indian Rafales the capability to shoot down enemy aircraft over 100 kilometers without crossing the border.
Rafale emerged as the preferred aircraft among various contenders in the Medium Multi-Role Combat Aircraft (MMRCA) competition for the Indian Air Force in what was then called the biggest military aviation contract in the world. Its closest contender was Eurofighter's Typhoon. The tender was canceled, and the Indian government purchased 36 Rafales directly from the French government.
Eurofighter Typhoon is a delta-winged, beyond-visual-range, close-air fighter aircraft with surface attack capability. The Eurofighter can 'supercruise' or fly at sustained speeds over Mach 1 without needing an afterburner.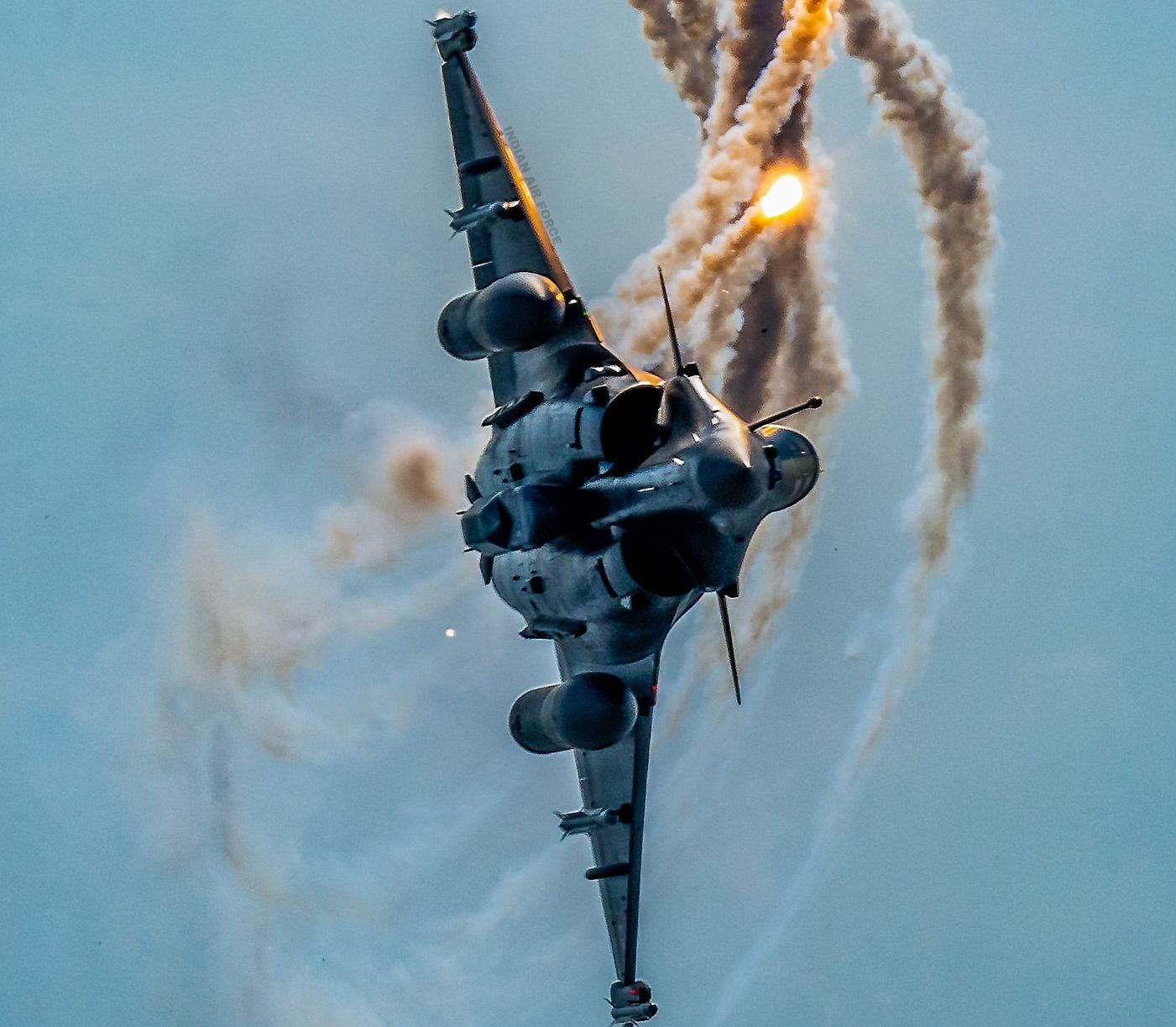 French pilot Pierre-Henri Chuet, who took Dassault Rafale M into combat in Iraq, while talking about Eurofighter Typhoon, said in an interview with Hush-Kit Aviation: "I don't know why they are compared so often – it's not the same design, ideas or philosophy. We're a truly omni-role platform.
"Typhoons are great; they use their big engines at 40,000 feet. I can't count how many times I've shot down Typhoons at 45,000 feet in the contrails. And my radar was off, everything off; I was coming from 100 feet below, supersonic in the climb from below. Absolutely undetected. So, I have absolutely no fear of the Typhoons."
He says that the Typhoon's performance at high altitudes is exemplary. "But as a Rafale pilot, I'm stupid if I take him on like that, so I'm going to move the combat a bit. I'll fake combat at 50,000 feet, and I'm going to send a guy sneakily low level to surprise the Typhoon; it's easier than you think!"
The two aircraft are highly unlikely to face each other in combat. Talking about formidable air defenses against Rafale, Chuet said: "I am not sure an aircraft's stealth is going to make much difference anyway against very modern stuff. We are not afraid of low-level penetrations in the French Air Force." "So come and get me with your (Russian) S-400 if I'm at 200 feet above the ground — that's not going to happen anytime soon," he said.
Ritu Sharma has been a journalist for over a decade, writing on defense, foreign affairs, and nuclear technology.
She can be reached at ritu.sharma (at) mail.com


Source link
#Rafale #Bangladesh #1st #Time #Years #French #President #Visits #Dhaka #Dassault #Eurofighter #Compete #BAF #Deal