Source : Firstpost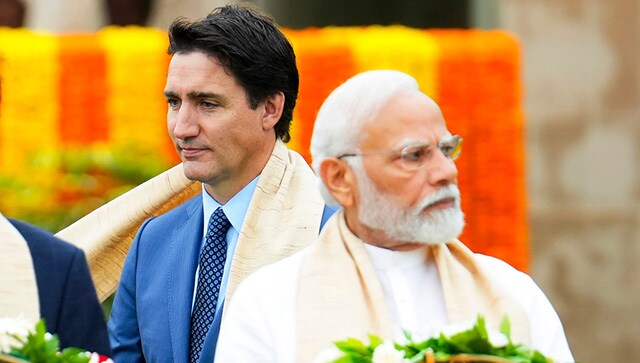 Within the span of two news cycles in Canada and one in India, filled with explosive allegations and tit-for-tat diplomatic moves, the already frayed bilateral relationship has now gone into a coma. And it is all down to Justin Trudeau. The Canadian prime minister has chosen to burn all bridges with India by triggering a massive diplomatic crisis with wild, unsubstantiated allegations possibly as a distraction ploy to save his plummeting political career.
There are two ways of looking at Trudeau's shocking comments made in the Canadian Parliament on Monday when he blamed the Indian government for slaying "Canadian citizen" Hardeep Singh Nijjar on Canadian soil, calling it "an unacceptable violation of our sovereignty".
Nijjar, a Sikh separatist leader, was killed by unidentified assailants on 18 June near Vancouver. India has "completely rejected" the allegations, and in a terse statement, the Ministry of External Affairs said the "allegations of Government of India's involvement in any act of violence in Canada are absurd and motivated," and added that "such unsubstantiated allegations seek to shift the focus from Khalistani terrorists and extremists, who have been provided shelter in Canada and continue to threaten India's sovereignty and territorial integrity."
The first explanation is that Trudeau got such an all-round pasting from the Opposition during his train wreck of a trip to India — when he was chastised by prime minister Narendra Modi, cut a lonely, sorry figure, and had to stay back due to a technical snag with his airplane — that he aims to kill two birds with one stone. Retrieve his falling ratings, manage tricky domestic issues by creating the bogey of foreign interference and malign India, an easy target, to further secure the all-important Khalistani votebank.
The second explanation that we must consider is that Canada is in possession of incriminating evidence, based on which Trudeau declared in the Parliament that Canadian "security agencies have been actively pursuing credible allegations of a potential link between agents of the government of India" and Nijjar's death. Trudeau didn't present any evidence to back his claim, but added that the alleged killing "is contrary to the fundamental rules by which free, open, and democratic societies conduct themselves".
Before we examine the possibilities, one thing needs to be made clear. In both scenarios, Trudeau has no moral right to pontificate on "rules". Canada has ignored India's repeated extradition requests to deport Khalistani separatists who have been charged with committing anti-India activities and running terror and narcotic rackets. Nijjar was high on India's wanted list.
A key cog in the Khalistani wheel, the Interpol had issued a 'red corner notice' against Nijjar in 2016. He is a designated terrorist in India under the Unlawful Activities Prevention Act and wanted by both the NIA and Punjab Police for his involvement in over 10 cases of targeted killings in Punjab, funding secessionist activities, running terror camps and nexus with Pakistani agents. In short, he was a bad apple being protected by the Trudeau government.
According to Canadian media reports, Nijjar "came to Canada in 1997 and claimed refugee status, having used a false passport to enter the country. His refugee claim was rejected, but 11 days after that, he married a woman who sponsored him for immigration. That, too, was rejected" though he seems to have been granted citizenship later.
Not just protecting bad apples like Nijjar instead of handing them over to India, under the Trudeau regime Canada has never failed to look the other way when Khalistanis issue 'kill lists' against Indian diplomats, tried to inflict bodily harm and set fire to Indian diplomatic premises, and celebrate the assassination of former Indian prime minister Indira Gandhi through tableaus.
Now, let's come to the crux of the allegation, following which Canada expelled a top Indian diplomat and saw a "senior Canadian diplomat" getting kicked out of New Delhi, whom the Hindustan Times identified as Olivier Sylvestere, the Canadian intelligence agency station chief in India.
Trudeau claimed that his government is "pursuing credible allegations of a potential link between agents of the government of India" and Nijjar's death. Note the words carefully. Trudeau offered zero evidence to back his outrageous and incendiary claims on Monday, and that too in the Parliament premises through a dramatic declaration designed to generate controversy, but in a subsequent statement a day later, he appeared to walk back by saying, "Canada is not trying to provoke India by suggesting it was linked to the murder of a Sikh separatist leader, but wants New Delhi to address the issue properly."
It may not be a coincidence that faced with India's "complete rejection", Trudeau was cornered by the Opposition to release concrete evidence.
The issue gets even more curious when we note while investigating the murder of Nijjar in June, Canadian police "did not consider India to be involved in the act", according to reports published in Indian media in August. So how did things change so dramatically?
It has now emerged that during the G20 meet in New Delhi, India's national security advisor Ajit Doval had "engaged his Australian, UK and Canadian counterparts over the rise of Sikh fundamentalism and violence against Indian assets in their respective countries", and while other nations were responsive, the "Canadian NSA was unfazed as the New Democratic party of Khalistan supporter Jagmeet Singh supports the minority Justin Trudeau government."
With his reckless allegations, Trudeau has not only completely eroded mutual trust between the two nations, to save his own skin he has endangered the lives of Hindu Canadians and Indian diplomats stationed in the country. On Tuesday itself, banned separatist group SFJ legal adviser Gurpatwant Singh Pannun threatened non-Sikh Indians to leave Canada.
It is staggering to imagine that the Trudeau government expelled a top-ranked diplomat from a friendly country (notwithstanding the chill in ties that are largely a result of Trudeau's political machinations) based on a wishy-washy report of "potential links" that has not even been concluded. At this stage, even if there is a kernel of truth in the accusation, by making the allegations public in such dramatic fashion, Trudeau has jeopardized the investigation.
But perhaps that was his intention. After all, it is the Justin Trudeau government that prevented the Modi government from reaching out to the Khalistani separatists in an outreach effort in 2015. According to a report in Hindustan Times, that outreach effort took place through Jasdev Singh Rai in late 2015 when Prime Minister Modi met the director of the Sikh Human Rights Group — a key interlocutor between the government of India and Sikh separatist groups.
The report notes that "in late 2016, Rai was denied electronic travel authorisation (ETA) by Ottawa… and as a result, Rai and BJP leader Ram Madhav, could not go ahead with a planned meeting in Toronto with radical Sikh groups."
While he sits back and enjoys the carnage after lighting the matchstick, Trudeau should consider one possibility. He has perhaps ended up securing another term for Modi in upcoming elections.