Taking a cue from the ongoing war in Ukraine and the inventive and disruptive use of simple drones to carry out devastating strikes, the Chinese military held an air defense exercise to protect its airfield from such attacks.
Washington To Plug 'Gaping Holes' In Cyber, Space-Based Surveillance As Hamas Attack Stuns US, Israel
Notably, it practiced defending its Airborne Warning and Control System (AWACS) aircraft from drone strikes coming from Taiwan. The destruction of a critical Airborne Early Warning and Control (AEW) plane can handicap People's Liberation Army Air Force (PLAAF) fighters, as these Intelligence-Surveillance-Reconnaissance (ISR) aircraft are the eyes in the skies. 
On February 26 this year, Ukrainian drones, controlled by anti-Russian Belarusian partisan groups, hit a Russian A-50U AWACS aircraft in the country's Machulishchy air base. The attack stunned the Russian Air Force (RuAF) and also bore its lack of AWACS aircraft, which further dropped following the loss of the A-50U. 
This also comes amidst Taiwan fielding an array of domestically made Unmanned Aerial Vehicles (UAV) against China.
Some are meant to strike incoming Chinese troops landing on the island as a part of amphibious operations. Others have been envisaged to hit coastal targets on the Chinese mainland, including air defense batteries, missile inventories, radars, or ammunition depots.
Chinese Ground Crew Takes Down Drones
The pictures showed ground crew with handheld drone guns, fixed ground jammers, vehicle-mounted drone locating radars, and what appeared to be a Counter-Unmanned Aerial System (C-UAS). The exercise was held at the Dachang air base near Shanghai sometime last week.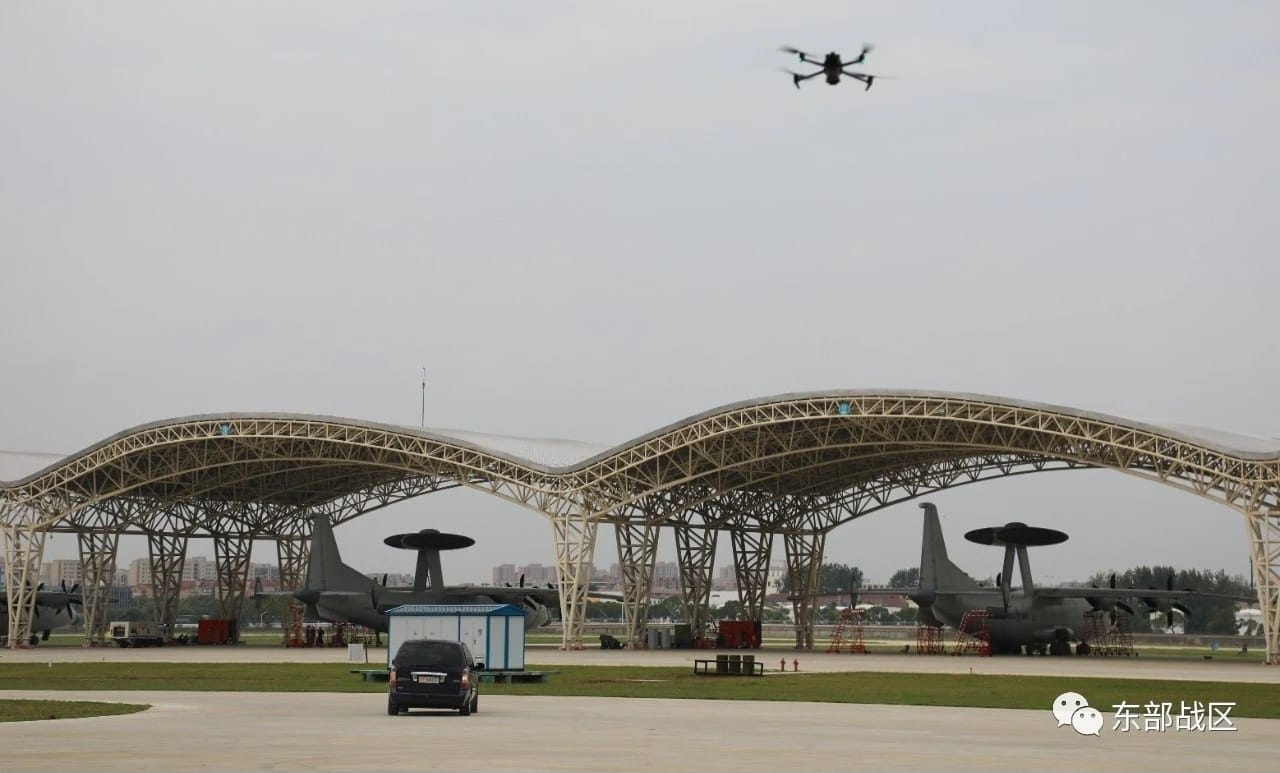 The target UAV is a four-rotor quadcopter that is being chased by another quadcopter firing a net. This appears to be an airborne anti-drone system that traps and ensnares the target drone, immobilizing it and causing it to fall. It is unclear, however, if this was the fate of the drone here. The other friendly UAV also has a net-launching system on its belly underside. 
One photo on many China-friendly social media pages showed the target adversary UAV over two hangars, where two KJ-500 AWACS are parked. Dachang hosts a particular mission aircraft unit of the People's Liberation Army Navy (PLAN). 
This supports the information in the post that claimed the drill was inspired by the February 26 attack on the Machulishchy air base that destroyed the Russian A-50U AWACS. 
"The purpose of the exercise was to strengthen the interaction between the military, police, and civil services, coordinate actions, as well as increase the capabilities and technical level of training of the armed forces to counter UAVs," said the message on a Sina Weibo post. 
Given the rising threat from Taiwanese drones, the drill tested various drone detection and interception systems and possibly finalized tactics and procedures to deal with UAV attacks on Chinese military air bases. 
Taiwan's Drone Development
Under President Tsai Ing-wen, Taiwan launched a massive state-funded drone development program this July to indigenously develop a diverse range of attack, kamikaze, and ISR UAVs. Reuters reported this "drone blitz" of enlisting Taiwanese defense and drone companies to have been "inspired" by Ukraine. 
According to a government planning document reviewed by Reuters, the aim is to build more than 3,200 military drones by mid-2024. "These will include mini-drones that weigh less than two kilograms and larger surveillance craft with a range of 150 kilometers." Another is to avoid relying on the so-called "red supply chain" – components sourced from China.
Before that, on March 14, the National Chung-shan Institute of Science and Technology (NCSIST) unveiled five different types of drones. This included the Albatross II UAV, capable of conducting extended surveillance and tracking naval ships over the sea using artificial intelligence.
It can stay in the air continuously for 16 hours and has a maximum range of over 300 kilometers (186 miles). Another new surveillance drone was the portable Cardinal III UAV, capable of taking off and landing vertically and designed to monitor activities along the coastline. 
An essential combat drone was the Loitering Munition UAV, which a single soldier can operate. It has a warhead and can target individuals or vehicles from the sky.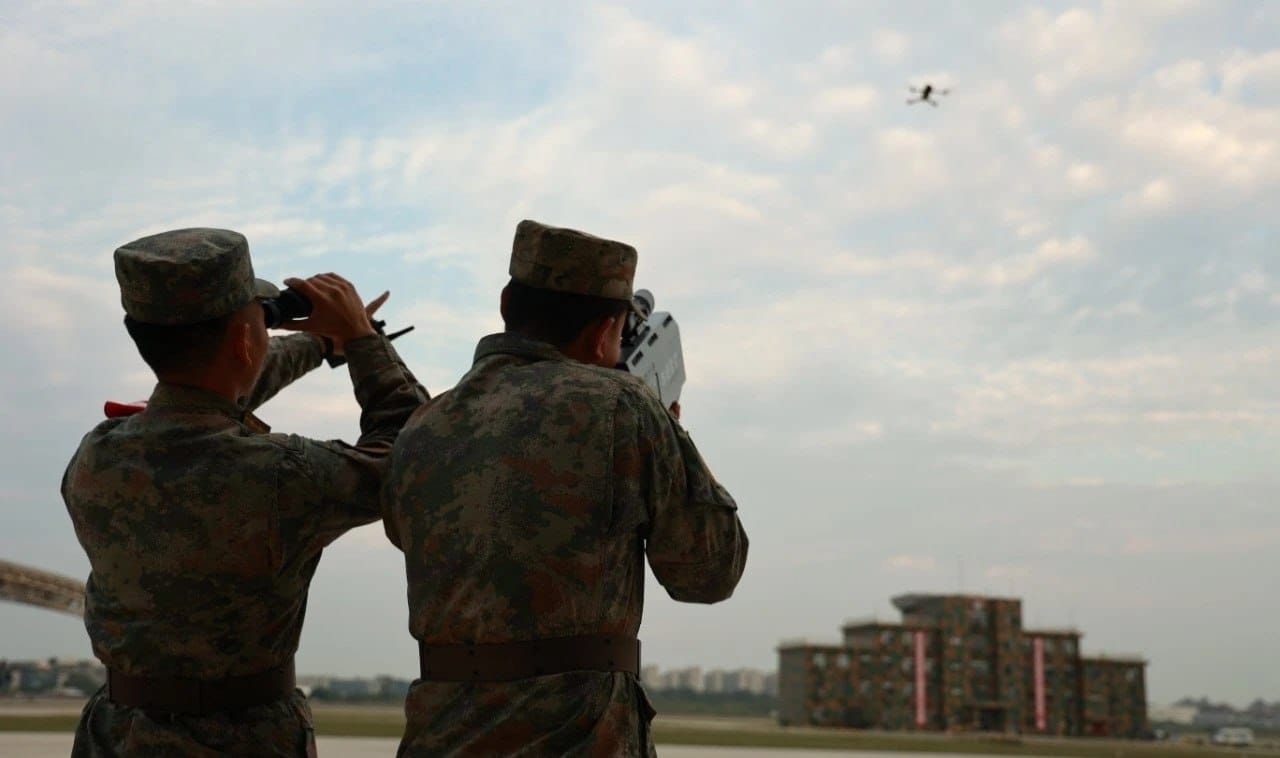 The institute said this is modeled after the US-made Switchblade 300 drones, which the Ukrainian military has extensively used to target enemy radar systems in its defense against Russia's invasion. 
But a particularly dangerous aircraft is the Chin Hsiang, primarily an anti-radiation loitering munition/kamikaze drone meant to take out ground-based radar systems. The drone resembles Iran's Shahed-136 and is a Russian iteration, the Geranium-2 (Geran-2).
Source link