Source : The Hindu
IAF Mirage-2000s hone war fighting skills at Exercise Cobra Warrior
Waddington airbase (UK): Over the past three weeks, five Indian Air Force (IAF) Mirage-2000 aircraft have been undertaking joint training involving high intensity, large force, and tactical air war fighting operations with six other Air Forces as part of the multilateral 'Exercise Cobra Warrior' under way in the U.K. The Mirages drawn from all three existing squadrons also include those that took part in the Balakot air strike in February 2019.
The other countries include U.K., Finland, Sweden, South Africa, Saudi Arabia, U.S., and Singapore. Finland, India and Saudi Arabia joined the exercise for the first time. The initial idea was to bring in indigenous Light Combat Aircraft (LCA) Tejas but they were busy in another exercise, so the Mirage-2000s were deployed.
"We have done two stops en route, at Saudi Arabia and Greece, and covered a distance of 4,500 miles over three days with mid-air refuelling by IL-78 aircraft," said Gp. Capt. Pranav Raj, CO of 7 Mirage squadron 'Battle Axes' based at Gwalior, and the IAF's Exercise Director. On the challenges and lessons learnt he said, "The weather here is fairly challenging and quite different from what it is in Gwalior or Central India. In fact, more than 80% of my team has seen snowfall for the first time. The maintenance team has done a tremendous job in keeping all five aircraft available for missions."
It has been a great experience, he further stated. "We have learnt quite a bit when flying with participating nations. We've flown with F-18s and F-16s carrying out entire spectrum of air operations in terms of offensive and defensive counter missions and others," he stated.
In addition to the fighters, the IAF is supported by two C-17 Globemaster III transport aircraft and an IL-78 mid-air refuelling aircraft. The 145-member IAF contingent departed from Jamnagar airbase. The exercise began on March 2 and concludes on March 24 (Friday), said Gp. Capt. M. Gangola. "It has been a great learning experience."
Exercise Cobra Warrior is held twice a year and is the largest air exercise hosted by the Royal Air Force. This edition, around 70 aircraft are taking part, and is being directed by staff at RAF Waddington airbase.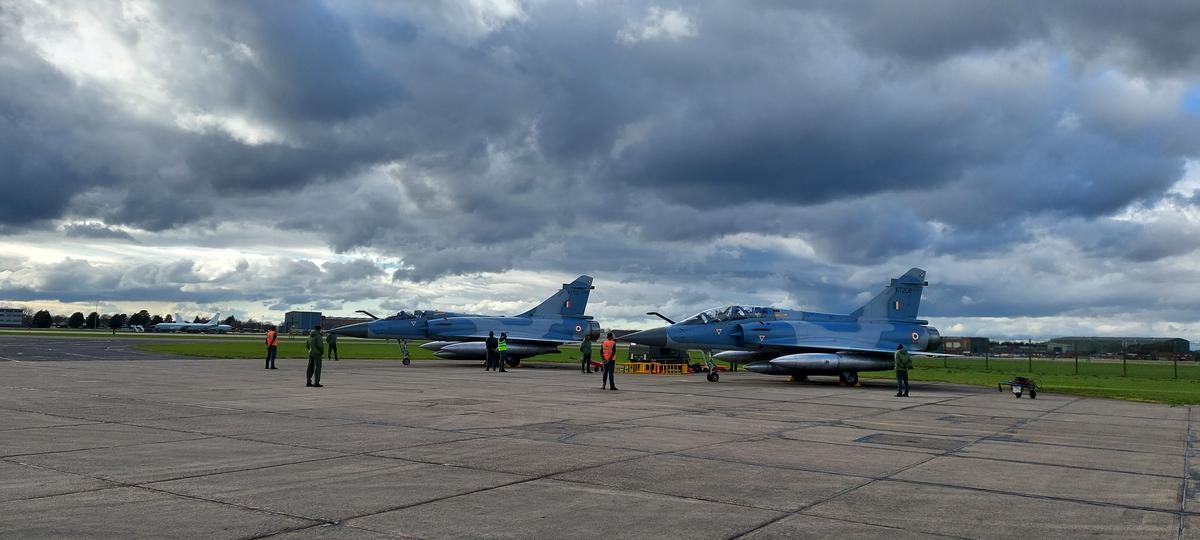 The purpose of this exercise is to invite participating nations to operate with each other and with U.K., said Group Captain James Calvert, Exercise Director of 'Cobra Warrior'. "It is wonderful to have IAF here with Mirage-2000s."
The Saudis are flying six Eurofighter Typhoons from RAF Coningsby base while the Indian team, Finnish team with six F/A-18 Super Hornets, and Belgian Air Force with six F-16s, are operating out of Waddington.
IAF decides not to send aircraft to multilateral air exercise in UK
The Finnish participation is part of a wider training activity in support of the U.K.-led Joint Expeditionary Force (JEF), known as JEF Warrior.
The fighter jets in the exercise are supported by RAF Voyager mid-air refuelling aircraft flying from RAF Brize Norton. The RAF's Air Mobility Force will be taking part in the exercise, with sorties including deploying elements of 16 Air Assault Brigade during an associated ground mission, that forms part of the overall exercise scenario, the RAF said.
Cobra Warrior provides an invaluable opportunity for international allies and partners to train together in developing operational tactics in the air, said Group Captain Mark Lorriman-Hughes, the RAF Waddington Station Commander.
Over three weeks exercise participants will bring together their capabilities and deliver the full spectrum of air operations, including defensive and offensive counter-air as well as strike operations, the NATO's Allied Air Command Public Affairs Office said in a statement. These also include RAF regiment precision-strike teams, air-manoeuvre operations to support ground forces, and also further developing a joint personnel recovery capability.
"The exercise aims to synchronise multi-domain effects and so includes not just the air domain, but also space and cyber and for this iteration land as well," it stated. The airspace for the exercise includes parts of north of England and Scotland and over the North Sea.