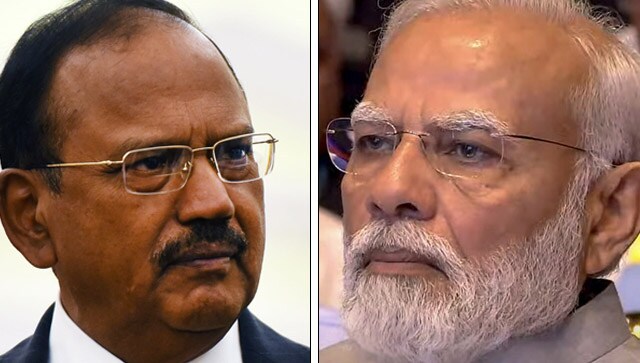 In April 2001, all leading Indian newspapers carried a photograph on the front page which made the collective heart of a nation sink.
The photo was of Bangladeshi villagers carrying the body of an Indian soldier dangling by his hands and feet from a bamboo pole like a freshly hunted animal. He was one of the 16 Border Security Force soldiers allegedly tortured and killed by Bangladesh Rifles men in a border skirmish.
The entire nation watched helplessly as a young nuclear power failed to act against even tiny Bangladesh and swallowed the humiliation with merely meek condemnation. What Indians despondently believed was embodied in that front-page image: theirs was a 'soft State'.
Related Articles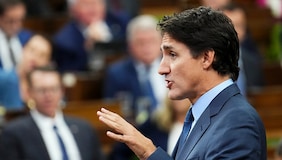 Who is prompting Trudeau to wag the dog?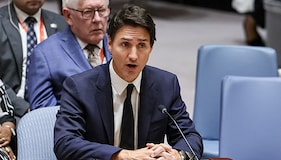 Should Canada's Justin Trudeau be declared persona non-grata in India?
The label was hung in an even larger font after each terror strike, culminating with the 26/11 Mumbai attack. India's political and security establishments were caught asleep; the air force did not even have the coordinates of Pakistan terror camps to retaliate. We kept sending dossiers of Pakistan-sponsored terrorists, Pakistan kept crumpling those into paper balls and throwing them into a bin.
From that day to Monday when Canadian Prime Minister Justin Trudeau accused Indian intelligence agencies of being behind the assassination of India-designated Khalistani terrorist Hardeep Singh Nijjar, this nation has come a long way.
Today, India is seen by the world as a 'hard State'; a rising superpower which unhesitatingly retaliates against the enemy with stunning force.
The new 'hard State' label is a byproduct of National Security Adviser (NSA) Ajit Doval's 'defensive offence' doctrine, in which you go and attack the place where the offence is coming from. As NSA, he set his doctrine into motion with a terse but eloquent warning to Pakistan: "You do one more Mumbai, you lose Balochistan."
And from the beginning of Narendra Modi's prime ministership, we have witnessed defensive offence in motion. The 2015 Myanmar cross-border operation against Naga militants, the 2016 post-Uri attack surgical strike across the LoC, and Balakot airstrike of 2019 after the Pulwama terror attack were a dramatic departure from India's former policy of masochistic restraint.
India even took China by surprise by digging its heels in Doklam and returning its murderous aggression at Galwan and Pangong Tso with bloodier reprisals.
India has adopted the strategy of unpredictable action, letting go of its predictable passivity in external and internal security matters. When one responds with unpredictable force and timing to enemy action, the adversary must think ten times before launching the next attack. Interestingly, not a single casualty in terrorist attacks has happened outside conflict zones since Modi took over in 2014.
But lately, another angle has been added to India's response to external threats. The smell — rightly or mistakenly — of covert action.
Since 2019 and especially in the last 24 months, over a dozen of India's avowed enemies have been killed in their safe havens overseas.
It could be sheer coincidence. Pakistan, for instance, is going through a period of political and economic chaos so unsettling that rival gangs, on the loose because of an absent government, could be killing each other.
But the sheer number of eliminations makes people wonder whether India has embarked on a Mossad-like 'Wrath of God' mission which saw Israeli intelligence getting rid of the 1972 Munich terrorists one by one.
Let us see what has happened to India's most wanted terrorist since 2019 in their overseas 'safe havens'.
Hardeep Singh Nijjar was killed near a gurdwara in Surrey, Canada, by two unknown assailants in June 2023. India had designated him as a wanted terrorist, NIA had a Rs10 lakh reward for info on him, and Interpol had issued a red corner alert. He had entered Canada illegally with a fake passport.
Rayaz Ahmed alias Abu Qasim was shot dead in a mosque in PoK in September 2023.
Maulana Masood Azhar reportedly escaped a massive blast in 2019 at the madrassa he was hiding in Peshawar. However, the most-wanted terrorist has had no public appearance since then, triggering speculation on whether he is dead.
Bashir Ahmed Peer of Hizbul Mujahideen was shot dead at point-blank range in Rawalpindi in February 2023.
Al Badr commander Syed Khalid Raza was killed by a single shot in the head in Karachi in February 2023.
Khalistani extremist Avtar Singh Khanda, who targeted the Indian mission in the UK, died of "unknown causes" at a Birmingham hospital in June 2023.
Aijaz Ahmad Ahangar, a Kashmiri terrorist functioning as a top commander of ISIS, was reportedly killed in Afghanistan's Kunar province in February 2023.
Jaish-e-Mohammed's Mistry Zahoor Ibrahim, one of the IC-814 hijackers who had slit passenger Rupin Katyal's throat, was shot dead in Karachi in March 2022.
Khalistan Commando Force's Paramjit Singh Panjwar was shot dead in Lahore by two gunmen in May 2023.
Lal Mohammed, a suspected ISI operative involved in pushing fake currency into India, was chased and shot dead on the outskirts of Kathmandu last year.
Khalistani terrorist Harwinder Rinda mysteriously dies in Lahore hospital in November 2022, reportedly of a drug overdose.
A day later, Khalistani terrorist and Rinda's aide Happy Sanghera was killed in Italy.
Within 24 hours, Khalistani terrorist Kulwinderjit Singh Khanpuria was likely brought from Bangkok, arrest was shown in Delhi.
In June 2021, a powerful blast rocks the neighbourhood of UN-designated global terrorist Hafiz Saeed, founder of Lashkar-e-Toiba.
Earlier, his Talha Saeed was injured in a blast in Lahore.
Less than a decade ago, I had asked the then Intelligence Bureau chief if India sends its spy squads on covert kill missions. And if it did, why didn't it wear it on its sleeves like Israel?
Sipping tea on the lawns of his Lutyens' bungalow, he had said: "Indians are culturally not yet really for such action."
that was true then has been inverted in the last eight or nine years. Raucous Indians greeted Trudeau's tirade as an official stamp on what they suspected: that under Modi and Doval, India has shed its security shyness.
It is impossible to say if India was behind the 15 attacks and kills I have listed in this piece. But a perception of India as a hard, unforgiving State has slowly crystallised globally despite our firm denials.
A person at the topmost tiers of India's security establishment had once told me that by radicalising and keeping its vast population impoverished, Pakistan has made it cheap and easy for India to hit it at will.
"We can hire hitmen from any lane in Lahore, Karachi, or Peshawar for as little as Rs 10,000 to do mischief inside Pakistan. They have to spend crores on indoctrinating, training and exporting terrorists into India," he said.
Any country that harbours terrorists and terror sympathisers in its backyard unwittingly creates a vicious ecosystem like Pakistan which one day turns on its host.
Canada under Justin Trudeau has much to fear and learn from that chilling hiring prophecy.
Views expressed in the above piece are personal and solely that of the author. They do not necessarily reflect Firstpost's views.
Read all the Latest News, Trending News, Cricket News, Bollywood News,
India News and Entertainment News here. Follow us on Facebook, Twitter and Instagram.